Morning Star Gali
Tribal Historic Preservation Officer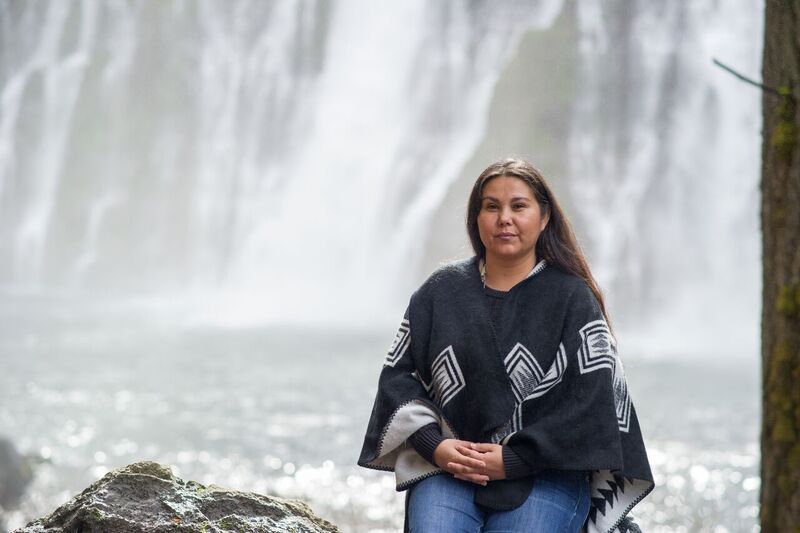 Leading Edge Idea: Restoring justice for Indigenous Peoples
Morning Star Gali has been deeply involved with the cultural, political and spiritual activities of her nation and urban Indian communities in the San Francisco Bay Area from a very early age. She grew up listening to stories of injustice, and attended demonstrations and marches while still in a stroller.
Gali was a teenager when her father became the first full-time Native prison chaplain hired by the California Department of Corrections and Rehabilitation (CDCR). In that role, he provided cultural and spiritual support for, and advocated on behalf of, incarcerated Indigenous people in California prisons. She grew up knowing about the incarceration of her father, and was present at many of his presentations and his educational events for "Native Americans against the death penalty."
Now, Gali is making it her mission to shed light on a little-known problem: the disproportionate impact of the criminal and juvenile justice systems on Native Americans. Native Americans have never been accurately accounted for in the criminal justice system, nor in other governmental records. The Bureau of Justice did not keep data on Native Americans until 2006, and the fact that there are more than 50 non-federally recognized tribes in California skews the data-collecting process in prisons. Additionally, Native Americans as a category are often considered "statistically insignificant" by researchers; therefore, data related to Native American behind bars is often nonexistent. Data that is available show that the Native American inmate population in California jumped from 145 per 100,000 Native Americans in 1980 to 767 per 100,000 in 2000. In addition, according to a 2014 report by CDCR, recidivism rates are highest among Native Americans.
Gali will document the crisis of mass incarceration among Native Americans in the state. Using her extensive network, organizing and community-based and engaged research background, she will mobilize Native nations, incarcerated Native Americans and their families, allies and policy leaders to address and shift the tide of over-incarceration and human rights violations within corrections institutions. She also aims to build solidarity and power among Indigenous Peoples throughout California, enabling them to restore sovereign rights and to heal, care for and resolve differences among their people on their own terms and by their own tribal governments.
"The first prisons for Native peoples were reservations and boarding schools," Gali said. "State sponsored extermination policies against Native communities are continually carried out today within the U.S. prison system. My vision is to decriminalize Indian Country and Tribal Nations."
Gali's work is groundbreaking, and can lead to a significant shift in narrative and policies for Native Americans in California As part of her Leading Edge fellowship, she will:
Track, document and publicize accurate information about the number of Native American adults and youth incarcerated in California's criminal justice system.
Organize community-engaged research and writing projects about the root causes of incarceration in her community, including elevating the stories of those incarcerated in collaboration with those individuals and families.
Support and defend the rights of Native Americans in the prison system to engage in ceremonial practices in prisons.
Work with tribal leaders to assert full sovereignty by bringing tribal citizens into the tribal court system and offer culturally rooted post-incarceration support.
A member of the Ajumawi band of the Pit River Tribe in Northeastern California, Gali currently works as the Tribal Historic Preservation Officer for the Pit River Tribe. Prior to returning to her ancestral homelands and working for her tribe, she served as a volunteer and advocate on behalf of Indigenous incarcerated tribal members in California and worked with a number of Indigenous-led grassroots organizations in the Bay Area for over a decade.
Hailed as a leader in the Native American community, Gali leads large-scale actions and assists with organizing Native cultural, spiritual, academic, and political gatherings throughout the state. She has been the lead organizer since 2006 for the now prominent "Thanks-taking" sunrise ceremony at Alcatraz, an annual commemoration of the 1969-1971 occupation by Native activists of the island within the ancestral territories of the Ohlone people. The sunrise ceremony, coordinated by the International Indian Treaty Council is now is attended by over 5,000 people each year.
"I want to see our families back in balance with each other," Gali said. "I want healing restored in our community. I want to bring our incarcerated brothers and sisters back home and for them to know they're needed back in our tribal communities."