Placing a Spotlight on Prosecutorial Misconduct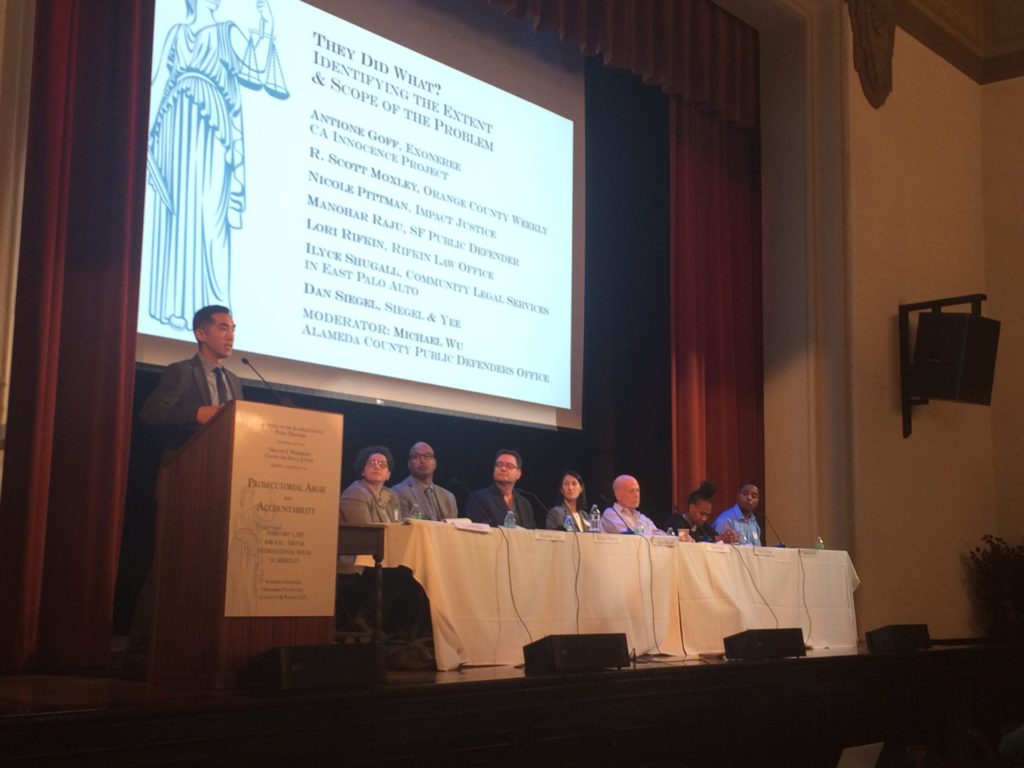 For decades, criminal justice advocates, scholars, and the media have primarily focused on the role of police, judges, and defense attorneys in determining criminal justice outcomes. Recent conversations about the need to address our broken criminal justice systems have focused on the epidemic of extra-judicial police killings and police terror. Very little analysis and attention has been paid to the role of prosecutors in perpetuating systems of state violence in communities of color.
In February, led by Leading Edge Fund fellow Raha Jorjani, the Office of the Alameda County Public Defender, together with the Thelton E. Henderson Center for Social Justice, hosted a Symposium on Prosecutorial Misconduct.
The symposium sought to begin a much-needed conversation about the role of prosecutors in systems of mass incarceration and mass deportation, and the need for efforts that both reign in prosecutor abuse and misconduct, and explore exactly what type of justice it is that we as a society believe these public servants should seek.
More than 200 people attended the symposium, including community members, scholars, lawyers, law students, educators, philanthropists, journalists, civil society advocates, and policy makers. The symposium featured keynote presentations from the Honorable Alex Kozinski of the U.S. Court of Appeals for the Ninth Circuit, and Adam Foss, founder of Prosecutor Integrity and former prosecutor. Symposium speakers provided our audience with critical information about prosecutorial abuses and engaged them in thinking about creative, innovative, and effective ways to combat this abuse.
The Alameda County Public Defender is committed to providing the public with access to the content covered at the Symposium.
Click here for the bios of all symposium Speakers.
Below is access to full audio for the symposium.
Resisting Abuses of Power: Raha Jorjani (Opening Remarks)
In her opening remarks, Jorjani says that attorneys must "strive toward a world where acting in the interest of justice means acting on behalf of all, and not just some of us." Jorjani examines the role of prosecutors in the systems of mass incarceration and mass deportation, and addresses the lack of, as well as the need for accountability. As a deportation defense attorney, she notes that prosecutorial abuse is "exponentially more dangerous" in the immigration context "where due process and fundamental fairness are already so compromised." Raha Jorjani is a deportation defense attorney and directs the Immigration Representation Unit of the Office of the Alameda County Public Defender.
The Evolution of a Prosecutor: Adam Foss (Keynote speech)
Introduction
Keynote
As a former prosecutor, Adam Foss addresses the importance of the role of the prosecutor in ending mass incarceration.  According to Foss, the problem of prosecutorial misconduct, explaining that "is less about people who are committing these misdeeds and more about the adversarial nature of the system and the use of discretion to get to a win as opposed to getting to justice." Foss explains that prosecutors aren't trained to understand and employ justice in the courtroom and argues that prosecutor offices must teach young attorneys entering the field " that the discretion they have is not to win some prize: it's to help that person over there." Foss is an advocate for criminal justice reform. He was voted Prosecutor of the Year by the Massachusetts Bar Association in 2013 and works with Grammy Award-winning artist John Legend on his efforts to end mass incarceration.
This keynote speech includes a 20-minute question and answer period.
Panel Discussion
Lori Rifkin, Civil Rights Attorney
Lori Rifkin discusses abuses of power in the prison law context. Rifkin is a civil rights attorney and a partner in the Bay Area office of the civil rights law firm Hadsell Stormer & Renick LLP.
Scott Moxley, Reporter
Moxley provides a reporter's perspective on identifying and exposing prosecutorial abuse. He is the Senior Editor for News & Investigations at OC Weekly.
Ilyce Shugall, Immigration Attorney
Shugall provides background on the immigration court system, discusses the role of immigration prosecutors in the deportation context, and provides examples of prosecutorial abuse that has serious consequences for immigrants. Ilyce Shugall was the Directing Attorney of the Immigration Program at Community Legal Services in East Palo Alto. Since the Symposium, she has been appointed as an Immigration Judge with the Department of Justice.
Dan Siegel, Civil Rights Attorney
Is the system even reformable? Siegel explains the nature of state power in a time of increasing repression of activists and marginalized communities. Siegel is a well-known trial and appellate attorney with a national reputation as an expert in employment and labor law, particularly in cases involving college and university faculty members, athletics coaches, and students.
Nicole Pittman, Impact Justice
Pittman discusses the impact on children of being prosecuted for conduct as minors and placed on juvenile sex offender registries. She argues for the need to eliminate the practice of juvenile sex offender registries in the United States all together.  Pittman is the Vice President of Impact Justice and  founded the Center on Youth Registration Reform, a center dedicated to eliminating the widespread practice of placing kids on sex-offense registries.
Antoine Goff, Victim of Prosecutorial Misconduct
Goff was convicted of a crime that he did not commit as a direct result of the misconduct of prosecutors in his case, which included paying off witnesses, and erasing confessions that likely would have led to his exonerated him. Goff ended up serving 13 years in prison. "Who should be accountable? Nobody was accountable," Goff says. Goff was eventually exonerated and sued the prosecutor along with his co-defendant.
The Epidemic of Prosecutorial Misconduct & the Role of the Judiciary in Ensuring Accountability: Hon. Alex Kozinski (Keynote speech)
Introduction
Keynote
U.S. Court of Appeals Judge Alex Kozinski delivers an powerful and informative keynote addressing prosecutorial misconduct and the role of the judiciary. Just as police shootings deserve outrage from the community, so should a prosecutor who "put[s] an innocent man in prison and tries to take his life or tries to take the years he's got left on earth by using flawed, falsified or perjurious evidence," Kozinski says. Kozinski has written and spoken extensively on the epidemic of prosecutorial misconduct and the role of the judiciary in ensuring accountability.
Remarks of Melissa Murray, Interim Dean of UC Berkeley School of Law
"There's so much that an ethical prosecutor can do to advance the mission of the criminal justice system if they are in a position to do so and if they have the will to do so," Murray says. Murray served as interim dean of Berkeley School of Law from March 2016 to June 2017.


Remarks of Brendon D. Woods, Public Defender of Alameda County
Woods talks about the impact that today's political climate could have on the criminal justice system for years to come. Will ethical prosecutors be fired for acting with integrity, compassion or sensitivity? "I fear that right now, with this new leadership in this country, that prosecutor abuse is going to be a playbook that prosecutors could use for generations to come," he says. "If there isn't some sort of check on that power, it will really continue to harm our clients. The question then becomes: how do we monitor it?" Brendon Woods is the Public Defender of Alameda County.
Panel Discussion
Brian Bloom, Assistant Public Defender, Alameda County
Bloom provides an overview of the legal duties of prosecutors in criminal cases and litigating issues of prosecutorial misconduct in individual criminal cases. Brian Bloom has been a public defender in Alameda County for 23 years. He is currently an Assistant Public Defender who heads the Law and Motions Unit and is the Training Coordinator for the office.
Jamesa Drake, ACLU Attorney
Drake provides an overview of litigating prosecutorial misconduct in the civil context in order to obtain declaratory relief or compensatory damages. If attorneys can establish that the prosecutors did something wrong, Jamesa Drake says, "how can the court help your client? What kind of litigation can you bring to help your client?" Drake is an attorney at the ACLU of Maine Foundation. She has argued hundreds of criminal appeals before appellate courts in Oregon, Kentucky, Maryland and Maine, and in federal courts throughout the country. She has represented seven people on death row.
Panel Discussion
James Bell, Hayward Burns Institute
Bell talks about "the role of prosecutors and, by extension, the administration of justice and its impact on people of color." There are approximately ten million youth and adults in secure confinement of under restricted supervision by the state, of which the majority are people of color, Bell explains. The "machinery of justice," Bell says, is the tool used against people of color to allay the fears of white people, "and prosecutors are the key instruments of the justice apparatus as currently constructed." Bell is the founder and Executive Director of the W. Haywood Burns Institute, which has worked in over 200 counties in 23 states to engage justice stakeholders and communities across the country to build an equity in the administration of justice.
Raj Jayadev, Silicon Valley DeBug
How can attorneys and advocates turn those who have been targeted by state power "into the animated force that has the political will and drive and capacity to actually achieve some of the ambitions and visions" that have been talked about in the symposium? Jayadev contends that the way to achieve prosecutorial accountability is "through the framework of mass movement. The strategies to make political gains include legislation, litigation, and grassroots community mobilization, he explains, in order "to profoundly transform the dynamic" of those in the carceral system as well as their families and communities. Raj Jayadev is the co-founder of Silicon Valley De-Bug is a community organizing and advocacy organization based in San Jose, California.
Taylor Pendergrass, Civil Rights Advocate and Litigator
"We can't end mass incarceration without meaningful and substantive prosecutorial transformation," says Taylor Pendergrass, a civil rights advocate. Along with what he calls "the culture of punishment" – the "cultural addiction to incarceration and the assumption that punishment somehow equals safety or accountability when it's demonstrably untrue," Pendergrass underlines the power dynamic inside the court system and offers pathways to create transformational change. A multi-pronged approach, Pendergrass says, is required – from electoral organizing to community organizing, from advocating for victims to institutionalizing structures for community control, transparency and oversight. A criminal justice reform advocate and litigator, Pendergrass works on a variety of projects as a consultant, and is a policy advisor to the ACLU's Smart Justice campaign and a senior staff attorney at the New York Civil Liberties Union.
Further reading materials:
"The Prosecution Rests, but I Can't," John Thompson. Op-ed, New York Times, April 9, 2011
"The Untouchables: America's Misbehaving Prosecutors, And The System That Protects Them," Radley Balko, Huffington Post, August 2013
"To avoid being hypocrite, Mark Peterson must resign," Robin Lipetzky, East Bay Times, December 2016
The symposium was made possible with funding by the Rosenberg Foundation, as well as with help from Covington and Burling.
For more information, contact Raha Jorjani at raha.jorjani@acgov.org