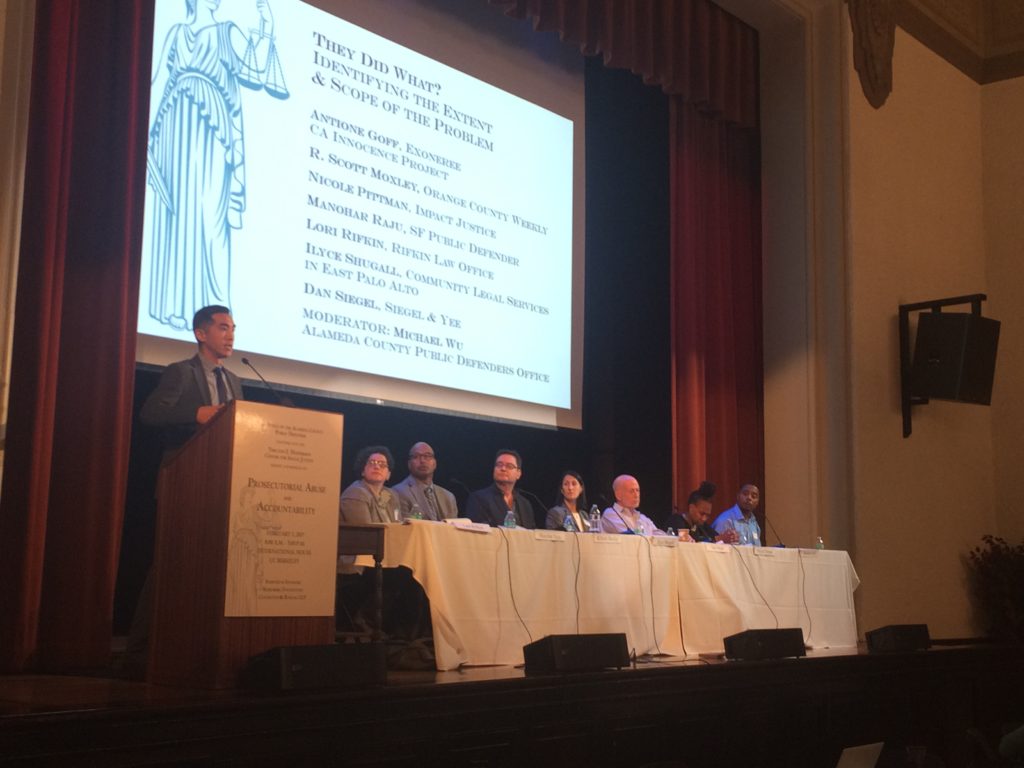 Placing a Spotlight on Prosecutorial Misconduct
For decades, criminal justice advocates, scholars, and the media have primarily focused on the role of police, judges, and defense attorneys in determining criminal justice outcomes. Recent conversations about the need to address our broken criminal justice systems have focused on the epidemic of extra-judicial police killings and police terror. Very little analysis and attention has been paid to the role of prosecutors in perpetuating systems of state violence in communities of color.
In February, led by Leading Edge Fund fellow Raha Jorjani, the Office of the Alameda County Public Defender, together with the Thelton E. Henderson Center for Social Justice, hosted a Symposium on Prosecutorial Misconduct.
The symposium sought to begin a much-needed conversation about the role of prosecutors in systems of mass incarceration and mass deportation, and the need for efforts that both reign in prosecutor abuse and misconduct, and explore exactly what type of justice it is that we as a society believe these public servants should seek.
More than 200 people attended the symposium, including community members, scholars, lawyers, law students, educators, philanthropists, journalists, civil society advocates, and policy makers. The symposium featured keynote presentations from the Honorable Alex Kozinski of the U.S. Court of Appeals for the Ninth Circuit, and Adam Foss, founder of Prosecutor Integrity and former prosecutor. Symposium speakers provided our audience with critical information about prosecutorial abuses and engaged them in thinking about creative, innovative, and effective ways to combat this abuse.
The Alameda County Public Defender is committed to providing the public with access to the content covered at the Symposium.
Click here for the bios of all symposium Speakers.
Click here to access full audio for the symposium.
The symposium was made possible with funding by the Rosenberg Foundation, as well as with help from Covington and Burling.
For more information, contact Raha Jorjani at raha.jorjani@acgov.org